Collection / Latvian International Ceramics Bienniale
07.04.-30.07.2017.
The exhibition takes place in cooperation with Daugavpils Clay Art Center and Daugavpils Mark Rothko Art Center. The exhibition features works by 118 authors from Latvia, Lithuania, Estonia, Romania, Spain, Turkey, Israel, Belarus, Luxembourg, the Cz...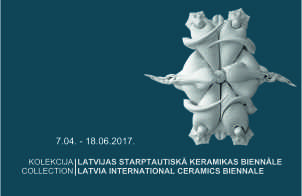 Ieva Ekmane. Me as You
07.07.-30.07.2017.
The young artist Ieva Ekmane's solo exhibition "Me as You" is a series of paintings that tell about the meeting point between the artist and the viewer of her work. It is a story about the search for a common resonance in each of us, about the inner ...