Riga Photography Biennial 2022 "ЛАВ = LOVE"
17.06.-10.07.2022. 11:00-18:00
From the collections of Andrejs Strokins, Irēna Bužinska, Bolderājas Grupa
Curator Inga Brūvere

Collecting is an interesting phenomenon; it is one of the most important cogs in the mechanism that maintains world order. Collecting is based on the natural instinct to hoard, which, of course, is not always perceived as something positive and does not always have a place in the rapid and insatiable lifestyle created by a producer-consumer society. However, it is due to this innate urge that subsequent events can unfold: the collection process sparks an interest in research, there follows a yearning for a deeper understanding of historical and social contexts, the collector's erudition grows along with their desire to match their collection to others' and to contribute to a common field of research. It is quite possible that without collectors/cultivators the world would have advanced in a different way, but the process of writing and reading history would most certainly have been different.

It is possible to collect almost anything: from onions and butterflies to tanks and airplanes; from lutes and zithers to coins and badges; from stamps, chewing gum wrappers, and tin soldiers to paintings, graphics, and sculptures. Many types of collecting have earned respect, and even their own names (philately, numismatics, notaphily, phillumeny, and phaleristics, to name but a few), largely due to their place in market relations. But most remain hobbies and continue to enrich the lives of people of all ages, nationalities, economic backgrounds, and social statuses. The exhibition ЛАВ = LOVE is largely focused on deltiology (collecting postcards), although the right terminology to describe the type of memory collecting that is currently most common and widespread, namely photographing personal moments, has yet to be found.

In the last few years, the isolation that followed the restrictions imposed as a result of the pandemic seems to have led to more than one private collection being revised. This exhibition offers a look into three private collections owned by Andrejs Strokins, Irēna Bužinska, and the Bolderājas Grupa association respectively. The collections are made up of material that was once life-affirming, but which later seemed obsolete and outdated and was thus abandoned. These are photographs, postcards, and slides that capture countless moments, memorable events, and positive emotions that once took place in some place and in someone's life. Seen from the point of view of today, these images can be understood as multi-layered material that is open to interpretation in the construction of a new cultural memory.
Andrejs Strokins' rich collection of found photographs is represented by a series, which got its name ЛАВ 74-24 from the number plate of a Soviet family's trusted companion – their Moskvitch car. The charming everyday scenes in the found photographs in this series are perfectly complemented by the treasures that can be found in Irēna Bužinska's collection. Bužinska is an art historian who has for 15 years collected delightfully kitschy, dilettante postcards and painted photo cards from the 20th century that people used to send one other by mail and signed "with LOVE". The Bolderājas Grupa collection takes a documentary look into the past on the other side of the Iron Curtain. An archive arrived in Riga in the 1990s and remained in a cardboard box labelled "Boxes and Frames" in Gaiziņš, one of the capital's first second hand stores in Riga's Central Market. Bolderāja native Vladimirs Jakušonoks finally unearthed the box and saw that it contained a trove of fi lm negatives, slides, photographs, and 8mm films taken by a man named Klaus who had immortalised the colourful lives of West German pensioners in 1963-1964.
Text by Aiga Dzalbe
Exhibition design: Inga Brūvere

Image: From the collection of Andrejs Strokins: ЛАВ 74-24

The Riga Photography Biennial (RPB) is an international contemporary art event, focusing on the analysis of visual culture and artistic representation. The biennial covers issues ranging from cultural theory to current socio-political processes in the Baltics and the wider European region. Biennial programme introduces audiences to leading works of international art as well as the ideas of prominent art theoreticians presented in the form of symposiums, discussions and publications in parallel with exhibitions and performances. www.rpbiennial.com

Supported by State Culture Capital Foundation, Riga City Council, ''Poligrāfijas Apgāds'', Printing house "Adverts", Hibnerstudio, Rixwell Hotels, ''Kokmuiža'', Arterritory.com, Echo Gone Wrong, Punctum and others.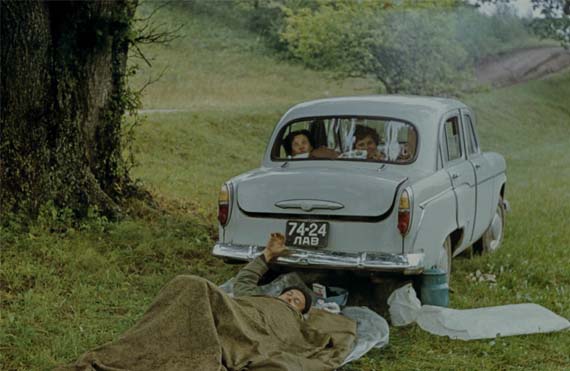 Lecture 'Photo Postcard as a Field of Creative Experiments in the 20th Century: Staging, Montage, Colouring'
30.06.2022. 18:00
From the late 19th century and into the 20th century, photo postcards served as a form of public communication and as a reflection of moral values, lifestyle, and aesthetic ideals. The cultural history of the 20th century also shows that this small format of photography was widely used for creative experiments and, in the words of Salvador Dali, became an "experimental base for the study of the modern popular unconscious thought". While the growth and popularity of postcards in the late 19th century was fuelled by the boom in lithography and other printing techniques, including collotype and colour lithography, the first half of the 20th century became the golden age of the photo postcard due to the reforms introduced by an American company – the Eastman Kodak Company.
In 1902, the company issued postcard photo paper and in 1906 the owner of Kodak, George Eastman, introduced his ingenious invention to the public – the portable No. 3A Folding Pocket Camera. This pocket camera facilitated the photography process and most importantly, the camera and film were devised in such a way as to produce a postcard-sized photograph. Because of these innovations, the photography process and the production of photo postcards quickly gained enormous popularity among professional photographers, publishers, and in workshops, as well as among amateurs from all walks of life. An incredibly fierce competition for the consumer's wallet, so to speak, and attention ensued. All these innovations unleashed the makers' imagination, and the photo postcard became an intense, extraordinary, and bold field of creative experimentation. Starting with staged settings spanning various topics and environments and performed by professionals and amateurs alike the process encompassed a wide range of manipulations with negatives and / or positives – retouching, montage, and colouring, which usually entailed meticulous labour by hand. Colour as a means of expression acquired just as many uses. Some of the methods that were widely used included negative techniques, like tinting glass plates or film frames, as well as positive techniques, like colouring the postcards with watercolours, aniline, tempera colours, or adding appliques, gilding, and details out of various materials such as bird feathers, human hair, glitter, fabric, embroidery, etc.
The lecture provides an insight into the history of the development of photo postcards and focuses on creative, as well as amusing, examples of experiments with staging, montage, and colouring from the turn of the 20th century until the 1960s. The presentation features samples of photo postcards from Tsarist Russia, as well as from German, French, and Italian companies that were popular during the interwar years in Latvia together with works by the leading publishers in Latvia – P. Slavinskis' publishing house, Fotobrom, ERBE and Krīvi. In turn, photo postcards made in the mid-20th century by anonymous amateur photographers attest to the imagination of ordinary people and an unquenchable thirst for "authentic" beauty bursting with colour.
Entrance fee: 50 % off price. Language: Latvian.
Lecturer: Irēna Bužinska (LV)
Image: Neue Photographische Gesellschaft, Germany. Silver bromide print, photomontage, colouring, gilding. Early 20th century