Decolonial Ecologies: Understanding Postcolonial after Socialism
02.11.-15.01.2023. 11:00-18:00
The exhibition Decolonial Ecologies: Understanding Postcolonial after Socialism aims to explore the complex entanglements of postcolonial and postsocialist imprints in contemporary society and culture in Latvia, the Baltics, and its neighboring regions through the prism of environmental history and changes, and the current ecological crisis. Postcolonial and decolonial approaches to rethinking the complex relations between past and present have gained new urgency in Eastern Europe and the postsocialist region with the Russian invasion of Ukraine. These approaches aim to provide new perspectives on how to think about the lasting influence of colonial, imperial, and occupation powers, even after their apparent end, as well as to think through truly breaking free from these influences.
Decolonialism also includes new perspectives on the relationship between humans and the environment, their dominant and consumptive impact on nature, and the need to change this. The exhibition also foregrounds issues of sustainability and accessibility, and the role of culture and the arts in strengthening a diverse and inclusive society. These issues are highlighted in the exhibition's public programme, discussions, lectures and creative workshops.
Artists: Anna Shkodenko, Darja Popolitova, Viktor Gurov, Francisco Martínez, Aurelija Maknytė, Diana Lelonek, Artist collective Family Connection, Haralds Matulis, Inga Erdmane, Linda Boļšakova, Līga Spunde, Maija Demitere, Maria Kapajeva, Olia Mykhailiuk, Rasa Šmite & Raitis Šmits, Vika Eksta and Anna Griķe.
Curator: Ieva Astahovska
Photo by Pēteris Rūcis
The exhibition is organized by Latvian Centre for Contemporary Art and the Association of Culture Institutions of Riga City Council exhibition hall Riga Art Space, supported by Riga City Council, Riga City Council Department of Education, Culture and Sport.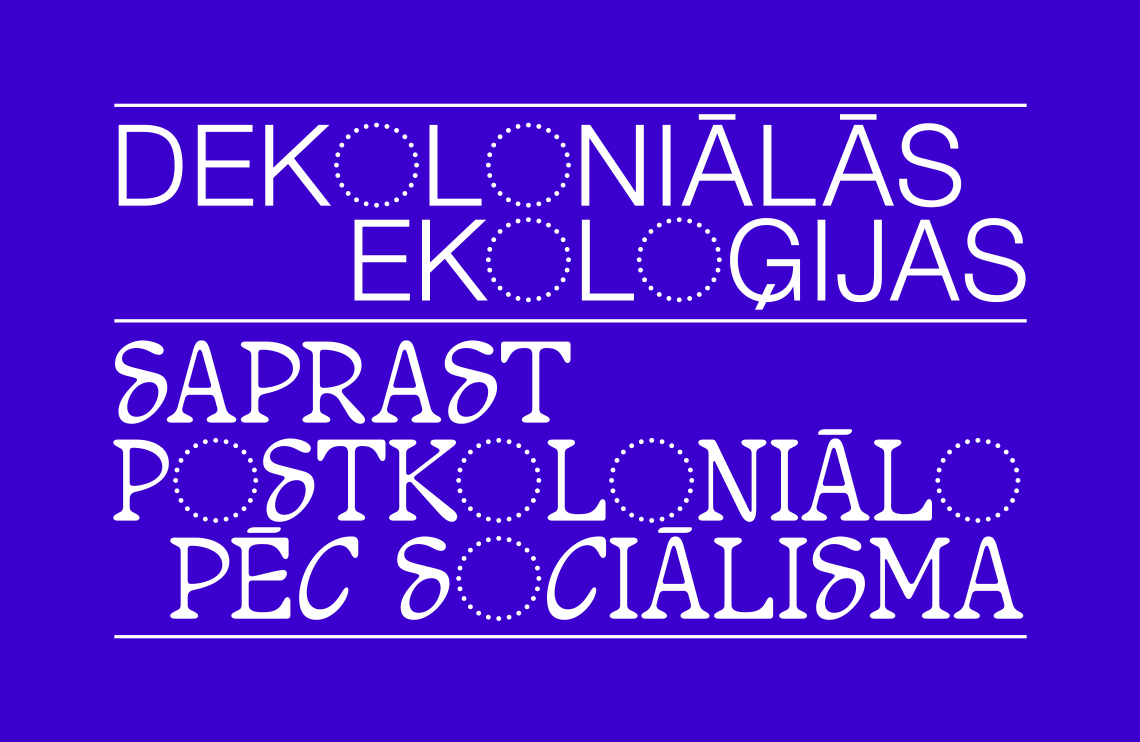 Regeneration and decolonial transformation: Ukraine's nature, built environment, and art during wartime
10.01.2023. 18.00
Online discussion:
REGENERATION AND DECOLONIAL TRANSFORMATION: UKRAINE'S NATURE, BUILT ENVIRONMENT, AND ART DURING WARTIME
The discussion will take place on this Facebook event.
Organised by the LCCA in the framework of the exhibition "Decolonial Ecologies. Understanding Postcolonial after Socialism".
Participants: Alevtina Kakhidze, Darya Tsymbalyuk, and Svitlana Matviyenko. Moderated by Svitlana Biedarieva

ABOUT DISCUSSION:
Decolonialism is not only about critical revisiting of the historical colonial legacy, it also brings new perspectives on how to rethink the complex relations between past and present, especially in terms of the impact of colonial, imperial or occupying power even after its apparent end. In Eastern Europe and the post-Soviet region, decolonial approaches have gained new urgency with Russia's invasion of Ukraine, whose real aim is to effectively restore the imperial power of the past.
The panel discussion will focus on the resistance to the ruining impact of Russia's war against Ukraine through cultural, ecological, and artistic practices. The speakers will discuss the main current threats and the various ways in which Ukraine's nature and built environment affected by the ruination can experience regeneration and transformation as decolonizing processes. By merging artistic and academic perspectives, the panel will explore how the nature-culture relationship in Ukraine acts as a moving force for resilience, stoicism, and reinvigoration in the face of ongoing violence and destruction.

ABOUT THE PARTICIPANTS
Alevtina Kakhidze is a multidisciplinary artist whose practice encompasses performance, drawing, time-based media, curation and collaborative works and investigates complex issues from consumerism to plant culture, and from feminism to life in conflict zones. Based in Muzychi, Ukraine, 26 kilometers from the city capital of Kyiv. Having grown up in the Donetsk region of Ukraine, known for coal mining, she has experienced Ukraine's abrupt and chaotic changes from the days of the USSR to the imbalanced environment after, including undeclared war between Russia and Ukraine that is going on today. Alevtina Kakhidze attended the National Academy of Fine Art and Architecture in Kyiv and the Jan van Eyck Academy in the Netherlands.
Darya Tsymbalyuk is a researcher and an artist from Ukraine. Her work lies at the intersection of environmental humanities and artistic research, and engages with feminist and decolonial methodologies. She is currently a Max Hayward Visiting Fellow at St Antony' College, University of Oxford. Darya obtained her PhD in 2021 from the University of St Andrews, Scotland, UK, with PhD dissertation "Multispecies ruptures: stories of displacement and human-plant relations from Donbas, Ukraine", where she foregrounded more-than-human aspects of migration by focusing on human-plant relations in oral histories of internally displaced persons.
Svitlana Matviyenko is Assistant Professor of Critical Media Analysis in the School of Communication of SFU and Associate Director of the Digital Democracies Institute. Her research and teaching are focused on information and cyberwar; political economy of information; media and environment; infrastructure studies; STS. She writes about practices of resistance and mobilization; digital militarism, dis- and misinformation; Internet history; cybernetics; psychoanalysis; posthumanism; the Soviet and the post-Soviet techno-politics; nuclear cultures and nuclear colonialism, nuclear blackmail, and weaponization of energy infrastructure, focusing on the weaponization of the Chernobyl and Zhaporizhzhia NPPs during the Russia-Ukraine War. She is a co-editor of two collections, The Imaginary App (MIT Press, 2014) and "Lacan and the Posthuman '' (Palgrave Macmillan, 2018). She is a co-author of "Cyberwar and Revolution: Digital Subterfuge in Global Capitalism" (Minnesota UP, 2019), a winner of the 2019 book award of the Science Technology and Art in International Relations (STAIR) section of the International Studies Association and of the Canadian Communication Association 2020 Gertrude J. Robinson book prize.
Svitlana Biedarieva is an art historian, curator, and artist. Her current research focus is contemporary Ukrainian art, decoloniality, and Russia's ongoing war against Ukraine. She holds a PhD in history of art from the Courtauld Institute of Art, University of London. She is the editor of the book Contemporary Ukrainian and Baltic Art: Political and Social Perspectives, 1991–2021 (ibidem Press: 2021) and co-editor of At the Front Line. Ukrainian Art, 2013–2019 (Editorial 17: 2020). In 2022, she was selected as the CEC ArtsLink International Fellow hosted by the University of Kansas and the Non-Resident Visiting Fellow at the Institute for European, Russian, and Eurasian Studies at the George Washington University. Svitlana is also a recipient of the 2022-2023 Prince Claus Fund Seed award for her artistic work.