From Baroque to the Present Day
07.04.-18.06.2017.
What Riga Porcelain Factory in the 20th century Latvia has to do with "Kahla" Porcelain Factory in Germany? What J.Jakšs' trading house in the 19th century Rigas has to do with "TC Brown-Westhead, Moore & Co" ...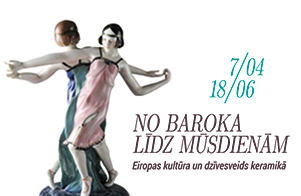 Collection / Latvian International Ceramics Bienniale
07.04.-30.07.2017.
The exhibition takes place in cooperation with Daugavpils Clay Art Center and Daugavpils Mark Rothko Art Center. The exhibition features works by 118 authors from Latvia, Lithuania, Estonia, Romania, Spain, Turkey, Israel, Belarus, Luxembourg, the Cz...